Luciole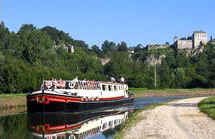 Cruising the Nivernais Canal
SUNDAY AUXERRE
Meeting at the Hotel Mansart in Paris at 2.30 pm, followed by the journey to Auxerre in our bus. 'Luciole' is moored on the spectacular city frontage, over looked by the Cathedral, Parish Church and the Abbey. A Champagne reception welcomes our guests on board.
MONDAY AUXERRE TO BAILLY
A visit to the historic centre of Auxerre is followed by a cruise into beautiful pastoral countryside where we serve lunch on board. The afternoon's voyage, through sweeping reaches of the River Yonne, concludes at the wine-making centre of Bailly.
Dinner and an early night
TUESDAY BAILLY TO VERMENTON
A visit is made to a wine cave in the vicinity of Chablis. The picturesque villages of St Bris and Irancy stand nearby, and a rendezvous is made with wine producers in the area - followed by a visit to Chablis itself. After lunch, we cruise up an arm of the canal to the small town of Vermenton
WEDNESDAY VERMENTON TO MAILLY LE CHATEAU
A morning drive in the bus takes us up the valley of the tumbling River Cousin to the historic town of Avallon - and the lively market in the streets. After lunch 'Luciole' continues southwards to a night-time mooring at the village of Mailly-la-Ville.
THURSDAY MAILLY LE CHATEAU TO LUCY SUR YONNE
From Mailly we make the short journey to Vezelay, where the spectacular 12th century Basilica dominates the town. Here St Bernard preached the 2nd Crusade. After lunch "Luciole" cruises past dramatic cliffs to the village of Lucy-sur-Yonne.
FRIDAY LUCY SUR YONNE TO CLAMECY
Our final visit is to the imposing Chateau of Bazoches. Set on a hillside amidst splendid rolling countryside, this was the 17th Century home of the Marquis de Vauban, France's great military engineer. The voyage in the afternoon, through the rich Nivernais landscape, takes us to the delightful Medieval town of Clamecy, a worthy venue for the climax of our cruise.
SATURDAY RETURN TO PARIS
An after-breakfast departure for Paris anticipates arrival there around 12:30pm.
On alternate weeks the route will be in reverse
Luciole
Year 2011 Rates in US Dollars
ACCOMMODATION

April 3 - 24
Jul 24 - Aug 21

May 1 -
Jul 17

Oct 16 -
30

Aug 28 - Oct 9

Charter 14 guests wholeboat

$40,000

$45,000

$40,000

$48,000

Stateroom per person

$3550

$3850

$3650

$3750

Single Cabin (when available)

$3650

$3850

$3550

$3850
| DEPARTURE DATES | RATE | ROUTE |
| --- | --- | --- |
| April 3, 10, 17, 24 | Regular | Nivernais Canal |
| May 1,8 15, 22, 29; June 5, 12, 19, 24; July 3, 10, 17,24 | High | Nivernais Canal |
| july 31 Aug 7, , 14, 21 | Regular | Nivernais Canal |
| Aug 28; Sept 4, 11, 18, 25; Oct 2, 9 | High | Nivernais Canal |
| October 16, 23, 30 | Regular | Nivernais Canal |
Luciole

Accommodations

Rate Type

Rate Amount

Stateroom per person

Value

3650

Single Cabin

Value

3650

Stateroom per person

Regular

3950

Single Cabin

Regular

3950

Charter 14 passengers wholeboat

Value

42000

Charter 14 passengers wholeboat

Regular

49500
| Departure Dates (Sunday) | Rate Type | Route |
| --- | --- | --- |
| Apr 8, 15, 22 | Value | Burgundy |
| Apr 29; May 6, 13, 20, 27 | Regular | Burgundy |
| June 3, 10, 17, 24; July 1, 8, 15 | Regular | Burgundy |
| July 22, 29; Aug 5, 12, 19 | Value | Burgundy |
| Aug 26; Sept 2, 9, 16, 23, 30; Oct 7 | Regular | Burgundy |
| Oct 14, 21, 28 | Value | Burgundy |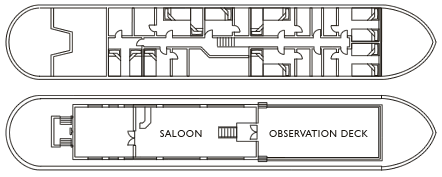 2022 Rates
There are no rate records in the database for this ship: Luciole
There are no departure date records in the database for this ship: Luciole
2023 Rates
There are no rate records in the database for this ship: Luciole
There are no departure date records in the database for this ship: Luciole